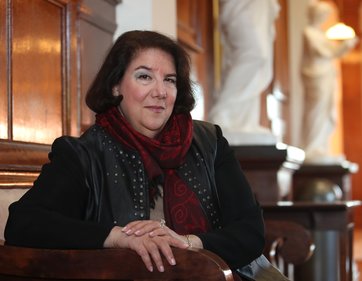 ​
Mystery and children's book author, Saralyn Richard, has been a teacher who wrote on the side, but now she is a writer who teaches on the side. Some of her poems and essays have won awards and contests from the time she was in high school. Her children's picture book, Naughty Nana, has reached thousands of children in five countries.
Murder in the One Percent,
soon-to-be-published by Black Opal Books, pulls back the curtain on how the privileged and powerful rich live, love, and hate. Set on a gentleman's farm in Pennsylvania and in the tony areas of New York, the book shows what happens when someone comes to a party with murder in his heart and poison in his pocket.
When she is not writing, Saralyn likes going to movies and concerts, traveling, and walking on the beach with her husband and two dogs. She is an avid reader and is working on her second mystery, Murder at Lincoln High. Saralyn is a member of International Thriller Writers and Mystery Writers of America.
​
The children's picture book,
Naughty Nana
, illustrated by Rebecca Evans and published by Palm Circle Press, is sure to delight kids of all ages. Saralyn enjoys facilitating workshops or book reviews for groups of all sizes and on a variety of topics. Email her at
saralyn@saralynrichard.com
for prices and availability. To purchase Naughty Nana, click on the Bookstore page (above). To join the Naughty Nana fan club, click on Fan Club Blog page.
Saralyn is happy to announce her debut mystery novel, Murder in the One Percent will be published by Black Opal Books on February 10, 2018. Email saralyn@saralynrichard.com if you wish to be included in newsletters.
Check out Saralyn's profile at: <a href="http://saralyn.allauthor.com" title="Saralyn Richard AllAuthor page">AllAuthor page</a>
Check out the author interview with Saralyn at:
https://mercedesfoxbooks.com/meet-author-saralyn-richard/
Check out the interview with Saralyn in Dogster magazine:
http://www.dogster.com/lifestyle/naughty-nana-childrens-book-sheepdog
August 2015 issue of Coast magazine
June 2017 Houston PetTalk magazine, p. 24:
http://editiondigital.net/publication/?m=9378&l=1&p=&pn=#
{"issue_id":411991,"page":0}
​
---
Which is naughtier, book Nana or real Nana? (Six of one, half dozen of the other, until Nana learned to be nice!)

​

Looking for a gift for your child or grandchild? Kids are connecting with Nana's naughtiness and the high-quality illustrations. (Test-marketed at readings nation-wide.)

Naughty Nana, a children's picture bookWritten by Saralyn RichardIllustrated by Rebecca Evans

ISBN: 978-0-9896255-0-0

Juvenile, ages 2-9, grades Pre-K-5

32 pp.

English, hardcover and softcover

Narrated by an Old English sheepdog who just wants to have fun.

Check out Naughty Nana on Facebook and Goodreads.

Website copyright ©2014.

​If you would like for Nana to appear at your store, school, play group, or birthday party, contact her at saralyn@saralynrichard.com. Literacy lesson included when appropriate.Upcoming appearances:


---


​


---

Palm Circle Press

and

Saralyn Richard

are proud to announce the publication of

Naughty Nana

. Based on the real-life adventures of a sheepdog puppy who just wants to have fun, this children's picture book will charm readers of all ages.

Veteran illustrator

Rebecca Evans

brings the tale to life with whimsical and memorable depictions of Nana's mishaps. Rebecca has a B.A. in visual art with a concentration in drawing and ilustration. She has worked as an artist and designer for the past 14 years, the last four in children's book illustration. She has taught art and published artwork with magazines and multiple publishing houses. She has illustrated 11 picture books and middle grade readers.

​

Reviews:Ami Polonsky,

author of

Gracefully Grayson

, writes: "

Naughty Nana

is an adorable book about the naughty antics of Nana the Sheepdog. The illustrations are vibrant and engaging. The true test of any picture book is how many times in a row your kids want it read to them, and Naughty Nana, one of my six year-old's favorites, passes this test with flying colors!"

Gay Yellen,

author of

The Body Business

, says: "This is a charming story of an English Sheepdog pup who gets adopted. Her family patiently endures many of the mishaps and mayhem of a rambunctious Nana as she learns to behave, and they learn to love her. The dog and the family are portrayed with warmth and sensitivity. It's a good book to read to children, and the illustrations are first-class."

Shannon Caldwell, mother of two, says, "Nana, the sheepdog puppy with a flower on her rear, just can't behave! Written with care and compassion with illustrations dog owners will love, this feel-good story is perfect for children and adults to share. Children love seeing naughtiness at work, and they'll identify with Nana's boisterous adventures, while adults will appreciate how Nana learns to face the consequences of her actions. Naughty Nana is as irresistible as its fluffy puppy star. Cuddle up with a copy for story-time fun."Mary Davidson

, first grade teacher, writes: "Naughty Nana is a perfect gift for young readers. Nana is a sheepdog pup who is full of energy and fun, even though she is exasperating for her new owners, Grammy and Papa. The surprise at the end is especially fun when the mystery is solved. The author relates the story in a simple, but interesting way to keep the reader involved. The illustrations are big and provide a colorful description of the escapades of Nana. Children of all ages should enjoy this delightful story following the antics of lovable Nana, the sheepdog."

Lorette Lavine

of

Parenting In the Loop

writes, "What a delightful, beautifully illustrated children's book about how Nana adjusts to her new home with Grammy, Papa and her new "sibling" Bogey. Her antics are amusing. Naughty Nana will become a favorite of kids, parents and grandparents alike. Hopefully this is just the beginning of Nana's family adventures!

Shannon SoRelle,

Editor of

The Islander magazine,

writes, "Having dogs and children who love them unconditionally, there was a connection for me when reading this book, but you don't have to be a dog owner to enjoy this amusing tale. It is sure to delight kids of all ages."

Bonnie Danick

says, "Our granddaughter loves to read about Nana and all the mischief she gets into. We love to read it to her to remind her of how Nana learns through her loving family to be a kind loving dog. A wonderful story to teach an important life lesson."

Talented illustrator, Rebecca Evans